Dr. Ledon has retired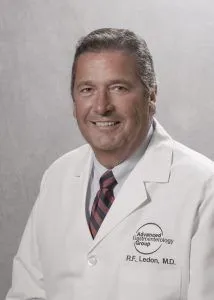 After 35 years of service to the community, Dr. Ledon has retired. We, at Advanced Gastroenterology Group, will always be in debt to him for his inspiration and leadership over the years as AGG has evolved and grew from its humble beginnings into the practice it has now become. We, with all of our patients, would like to wish Dr. Ledon and his family health and happiness during retirement. Nuestra puerta siempre estará abierta por nuestro bueno amigo...
The following letters have been written by Dr. Ledon to his patients:
To All My Patients:
It's been almost a year since I was forced to leave the practice for medical reasons. Although the conditions are merely orthopedic and not life threatening, they do prevent me from performing the procedures of my specialty, that I loved and performed to the best of my ability. I am a strong believer that if you cannot perform a procedure with excellence, then you are not serving the best interest of the patient.
After a year of medical and surgical treatments, my condition has not improved, but instead progressed.
If I never said goodbye to each one of you personally, it is because I truly expected to return to the practice.
I am writing this most of all to thank you all for two things. First, the enormous outpouring of get well wishes which I have received since last year, but most of all, to thank you all for the trust that you placed in me for the past 35 years. You have trusted me with your health, with the health of your parents, children, and in many cases, your grandchildren. I feel blessed and like the luckiest man on earth because I was able to share with you the good news and the bad news. We laughed and cried together many times, and that trust, I will never forget and will always be grateful for.
I leave the practice in peace because I made it my mission to bring into the practice younger doctors that not only share my demand for scientific and procedural excellence, but also my lifelong vision that a doctor, besides a scientist, has to be compassionate and caring. At times confident and sure, while sometimes, just someone who utters a kind word and gives you a hug.
I strongly urge you to continue with AGG for all of you digestive and Gastroenterology problems since I know I leave you in excellent hands.
I wish you all a healthy and happy future.
With all my love and respect,
Dr. Ledon
A Todos Mis Pacientes:
Hace casi un año que tuve que dejar la practica por razones médicas. Aunque el problema es ortopédico y no de vida o muerte me di cuenta que no podía ya hacer los procedimientos propios de mi especialidad con el mismo grado de competencia y excelencia a la cual estaba acostumbrado.
Yo pienso que todo paciente merece un médico que es cien por ciento capable de hacer un procedimiento tan bien o mejor que otro especialista. Nada menos es aceptable. Después de un año de tratamientos y cirugía, mi condición no ha mejorado al contrario como sospechaba ha empeorado. Si no me despedí de todos es porque siempre pensé que iba a mejorar y volver a la práctica en unos meses. Desgraciadamente no ha sido así.
Estoy escribiendo esto más que nada por dos razones. Primero, para darles a todos las gracias por el gran número de Buenos deseas y oraciones para mi mejoría que he recibido este año. Pero más que nada para agradecerles a todos la confianza que pusieron en mí durante los últimos 35 anos.
Vosotros pusieron no solo vuestra salud en mis manos per también la salud de sus padres, des sus hijos, y en muchos ocasiones, sus nietos. Eso nunca lo olvidaré y lo considero un honor.
Pienso que soy un hombre muy afortunado por haber podido compartir con todos ustedes las buenas y malas noticias, la alegría y la tristeza. Lloramos y nos reímos juntos y eso me honra y nunca lo olvidaré.
Dejo la práctica en paz porque hice mi misión en los últimos anos el traer a la oficina médicos jóvenes que no solo eran brillantes en el ámbito medico científico, pero, que al igual que yo comparten las cualidades de humanidad y compasión. El medico tiene que ser más que simplemente un médico. Muchas veces tiene que ser amigo, confesor, o simplemente alguien que te da ánimo y esperanza.
Les pido que continúen usando nuestra oficina para todas sus necesidades médicas y gastroenterológicas ya que sé que los dejo en excelentes manos.
Les deseo un feliz, sano, y próspero futura.
Con todo mi respecto y amor,
Dr. Ledon
If you would like to leave Dr. Ledon a message, please write it in the box below and it will be delivered to him. Thank you.